Overview
Flatfoot deformity
is a general term used to describe a person whose arches are slowly dropping to the ground, aka fallen arches. Adult-acquired flatfoot deformity can be caused by several factors, but the most common is abnormal functioning of the posterior tibial tendon in the foot and ankle. The posterior tibial tendon is the primary tendon that supports the arch. If this tendon begins to elongate from a sustained, gradual stretch over a long period of time, then the arch will progressively decrease until full collapse of the arch is noted on standing. What makes this tendon elongated? Biomechanical instability of the foot such as over-pronation or an accessory bone at the insertion site of the tendon are the primary causes for posterior tibial tendon dysfunction.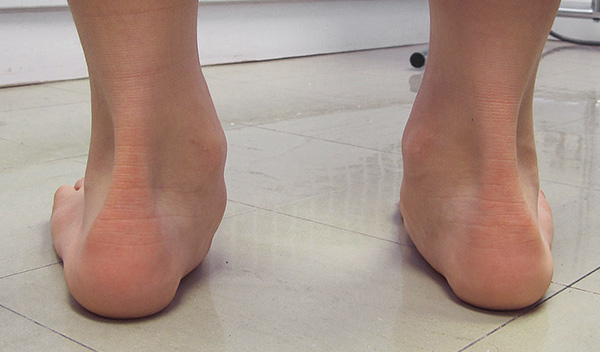 Causes
Women are affected by Adult Acquired Flatfoot four times more frequently than men. Adult Flatfoot generally occurs in middle to older age people. Most people who acquire the condition already have flat feet. One arch begins to flatten more, then pain and swelling develop on the inside of the ankle. This condition generally affects only one foot. It is unclear why women are affected more often than men. But factors that may increase your risk of Adult Flatfoot include diabetes, hypertension, and obesity.
Symptoms
The types of symptoms that may indicate Adult-Acquired Flat Foot Deformity include foot pain that worsens over time, loss of the arch, abnormal shoe wear (excessive wearing on the inner side of shoe from walking on the inner side of the foot) and an awkward appearance of the foot and ankle (when viewed from behind, heel and toes appear to go out to the side). It is important that we help individuals recognize the early symptoms of this condition, as there are many treatment options, depending upon the severity, the age of the patient, and the desired activity levels.
Diagnosis
It is of great importance to have a full evaluation, by a foot and ankle specialist with expertise in addressing complex flatfoot deformities. No two flat feet are alike; therefore, "Universal" treatment plans do not exist for the Adult Flatfoot. It is important to have a custom treatment plan that is tailored to your specific foot. That starts by first understanding all the intricacies of your foot, through an extensive evaluation. X-rays of the foot and ankle are standard, and MRI may be used to better assess the quality of the PT Tendon.
Non surgical Treatment
Because of the progressive nature of PTTD, early treatment is advised. If treated early enough, your symptoms may resolve without the need for surgery and progression of your condition can be arrested. In contrast, untreated PTTD could leave you with an extremely flat foot, painful arthritis in the foot and ankle, and increasing limitations on walking, running, or other activities. In many cases of PTTD, treatment can begin with non-surgical approaches that may include orthotic devices or bracing. To give your arch the support it needs, your foot and ankle surgeon may provide you with an ankle brace or a custom orthotic device that fits into the shoe. Immobilization. Sometimes a short-leg cast or boot is worn to immobilize the foot and allow the tendon to heal, or you may need to completely avoid all weight-bearing for a while. Physical therapy. Ultrasound therapy and exercises may help rehabilitate the tendon and muscle following immobilization. Medications. Nonsteroidal anti-inflammatory drugs (NSAIDs), such as ibuprofen, help reduce the pain and inflammation. Shoe modifications. Your foot and ankle surgeon may advise changes to make with your shoes and may provide special inserts designed to improve arch support.
Surgical Treatment
If conservative treatment fails to provide relief of pain and disability then surgery is considered. Numerous factors determine whether a patient is a surgical candidate. They include age, obesity, diabetes, vascular status, and the ability to be compliant with post-operative care. Surgery usually requires a prolonged period of nonweightbearing immobilization. Total recovery ranges from 3 months to one year. Clinical, x-ray, and MRI examination are all used to select the appropriate surgical procedure.